Thyme
From Health Wiki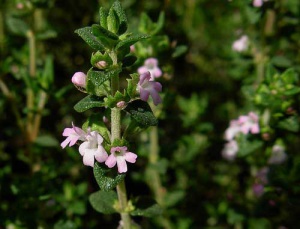 Thyme (thymus vulgaris)
Description
Thyme is indigenous to the Mediterranean region, but widely cultivated in many other areas. It's a perennial in the mint family and it boasts a very pleasant aromatic smell and warmly pungent taste. The most used parts of this herb are the leaves and flowering tops. It's also known to many as common and garden Thyme.
Constituents & Actions
Thyme is rich in volatile oils, flavonoids, tannins, etc. The active ingredient in this herb, thymol, is used in popular products such as Vicks VapoRub and Listerine mouthwash due to its anti-bacterial and anti-fungal properties. Among other uses, Thyme is an effective carminative (relieves intestinal gas pain and distension), astringent, anti-microbial, anti-spasmotic (prevents and relieves spasms) and expectorant (loosens and removes phlegm from the respiratory tract).
Medicinal Uses
Internally, Thyme is used to assist in dyspepsia and sluggish digestive problems. It's also valuable in the treatment of respiratory ailments, bronchitis, whooping cough and asthma. This herb is also an effective expectorant, and can aid in cases of excessive mucus in the throat and lungs. Due to its gentle astringent qualities, it can be used with children for diarrhea and bed-wetting.
Thyme has been successfully used as a remedy for colic, flatulence and headaches. It is known to promote perspiration and very beneficial for neuralgic and rheumatic pain. Combined with wild cherry and sundew, it is helpful for those with whooping cough.
This herb can also be used as a gargle to soothe for laryngitis, tonsillitis, sore throats and coughs. Externally, the volatile oil can be used as an antiseptic for infections and wounds.
Preparation
For tea, mix 2 tsp. in a cup of boiling water and steep for ten minutes. Sage can be added to help cure a nagging cough. Drink the tea three times per day. Tincture can be taken in the dose of 2-4ml, 3x's daily.
Culinary Uses
Thyme is not over-powering in flavor or aroma, and blends well with many other spices. It can be used either fresh or dried, and is a good source of iron. This herb is commonly used to flavor meats, lamb, poultry, soups and stews. Combined with red wine vinegar, olive oil and tarragon, it makes an excellent marinade for fish or chicken. Thyme is also used in making herbal butters and cottage cheese.
Side-Effects
There are not many side-effects when using this herb. Large doses however, may cause intestinal problems, diarrhea and bloating.
Related Discussions
External Links