Seeing as how we seem to be talking about strange looking spark plugs and how they are related gas pains. Here is how I spent last summer and how o
ne thing led to another and then into some oil and fuel additive testing.
Where I am located we have always had an electrical problem. Frequently during a good rain storm we will lose power. Of course with no power my sump pumps cannot run and if the rain is really coming down is amazing how fast the basement can start to flood. Seeing as how my workshop is in the basement the thought of all my "toys" getting wet is just not acceptable.
So some time back, at a garage sale, I bought a used electrical generator. It would start OK when cold but died when it warmed up. I determined that it needed a valve adjustment, fixed that and got it to run well under load. However under no load such as when the sump pumps shut off after having pumped all the water out of the sump, its governor could not maintain speed. Its speed would oscillate wildly up and down until the engine would finally die, of course shortly after this the sumps would have filled up to the point where the pumps wanted to turn on. This became annoying and no amount of fiddling or adjustment of the engine could cure it.
Now obviously I could have just gone out and bought a different generator, but way buy something for $2 when you can make it yourself for $20?
So I bought this 10 kilowatt generator and then all I needed was about a 20 HP engine to run it. Also I kind of wanted something that could run at a nice "quiet" 1800RPM. After exploring some different options it turned out that a friend of a friend knew of a guy who had an 87 Honda CRX for sale. It had a small 1500cc engine that would be just about right. Also the price was far less then what I would have paid for say a small new lawn tractor engine, plus it was fuel injected. He claimed the engine ran good but he wanted to get rid of it because a rear axle bearing was making noise, actually it screamed like a banshee, but for some reason he didn't feel like it was worth repairing.
So on an overcast morning my friend and I drove 50 miles to view this mechanical marvel. It was almost beyond description as it sat there in all its pristine splendor. The engine started right up with just a tap of the key and ran well, just as claimed, plus it had a new (2 year) old battery and a new exhaust system.
Well OK it did have a "few" mechanical problems. It had three alloy wheels and one steel wheel, which was flat, the front bumper was cracked, the plastic front fenders had numerous cracks, the hood had a slight warp in it, the passenger door would not open, the sun roof would not close, the rear hatch had a broken hinge and its gas support springs had long since lost their gas, a length of ½" pipe was used to hold it open when needed, the rear bumper was held on with a couple "L" brackets, the interior what was there was of it was ripped and torn, the turn signals only worked in one direction, never did try the head lights although there were two sets of add on headlights, one of which might have worked. It was all that I could have ever hoped for.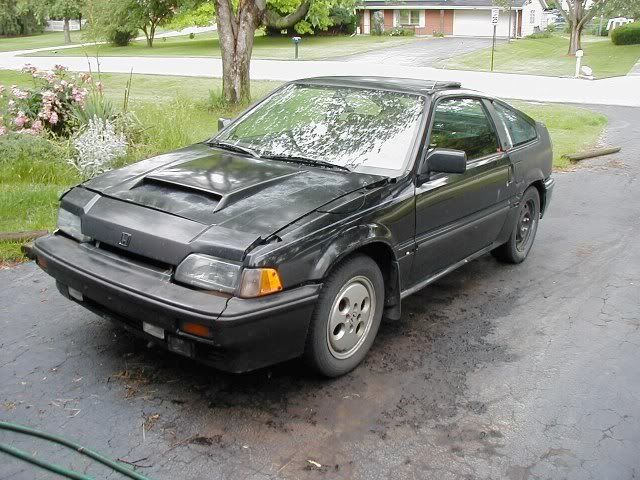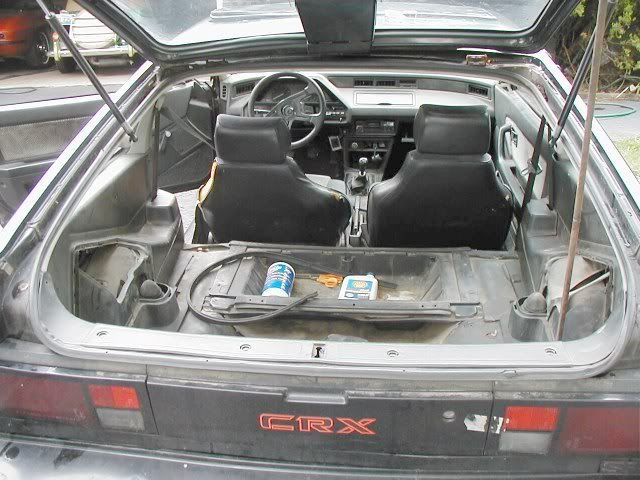 I happily paid the gentleman, surprisingly he did not seem least distraught at having to give up this gem, and thus we started the trip back home with rear wheel bearing screaming away. Steering was a little loose and sloppy but not too bad if you didn't go very fast. Which was OK because the brakes didn't feel like they were up to high speeds either. About one third of the way home the overcast sky turns to rain, and of course the windshield wipers did not work. Should have brought my bottle of "Rain-X" along. Made it to a "Burger King" stopped had some lunch while waiting for the rain to let up. Then jerry rig the windshield wiper crank arm that fell off back in place with some plastic tie-wraps. Make it home with no further problems. Engine ran great this was just the kind of car that I wanted.
I then spent the next two weeks carefully removing the body from around the engine. My goal here was to save only the wiring and the other parts that were actually needed to run the engine. Thus I went through it cutting out all the wiring that I knew was not needed, headlights, wipers, AC, etc. It was amazing how much wire there was in a small car like this, but the next door neighbor thought it was great as he grabbed an arm full of it to use to tie up his tomato plants.
Some of the wires & ECU that "are" needed to make engine run.
When I was tracing the wires back to the fuel pump I cut the "coat hanger" that was holding the fuel pump in place and gently wiggled it to make sure I had the right wires. Where upon the rusty fuel line to the engine promptly broke and I had the fuel pump in my hand drip gas, this then seemed like a good time to drain the gas tank. I then removed the gas tank, as I plan to use it on my generator, and here is view of the rear suspension, or what was left of it, that was in front the tank.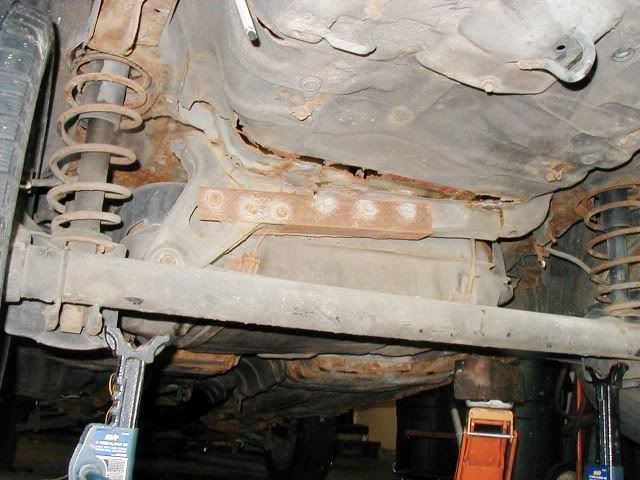 Until the "bad" wheel bearing this was the guys' daily driver?
Anyway I got out of it what I wanted.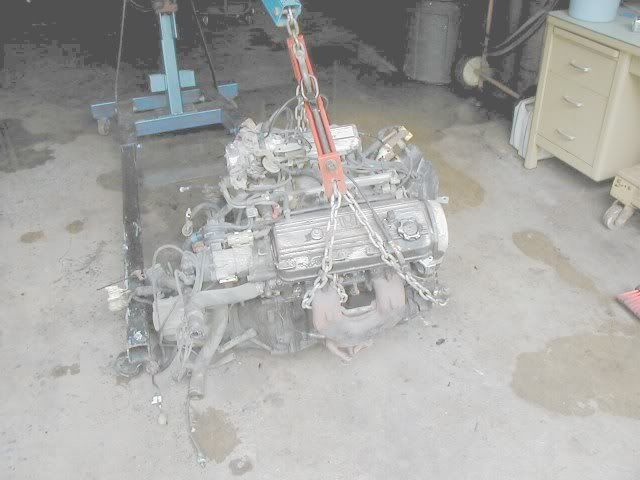 The rest of it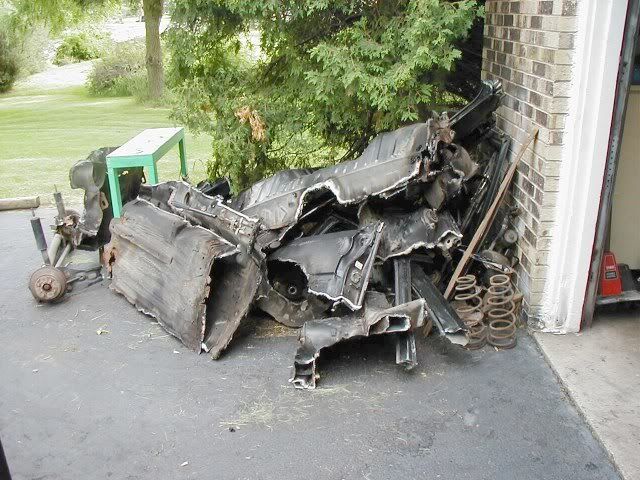 went to our local scrap pickers, who come around on garbage day looking for any bits and pieces of metal that they can find and take to a scrap yard and get a few dollars for. This for them this was a gold mine.
So now with the body and other useless parts disposed of, I turned my attention to the engine. Time to give it a bath and a close inspection. Removed the transmission and disassembled it and saved the bell housing and the input shaft. It did have an oil leak which appeared to be the rear main seal but turned out to be just a leaky oil pan gasket. Fixed that and replaced the rear seal on general principles. The alternator belt was totally worn out, replaced it. Checked the timing belt it was in surprisingly good condition and also checked valve clearance, they were all right on spec. The inside of the valve cover and oil pan were amazingly clean, no sludge! The spark plugs all had a nice tan color. For an engine with over 200,000 miles, speedometer broke at 217,000, I was quite pleased with its condition.
Next I got some angle iron and steel tubing and proceeded to weld up a stand to mount it on. Nothing real fancy here, gas tank is on the bottom with the engine over it. For expediency I mounted all of the external engine controls in essentially the same locations as they when they were in the car. The original instrument panel is mounted on the new control panel. In the space that was occupied by the broken speedometer I now have the electronics that maintains the engine speed. It controls a motor that pulls on the accelerator cable.
Turned the case hardened gear teeth off of the transmission shaft so I could mount the pulley that drives the generator. Probably would have been easier to make a new one from scratch, but it had the correct spline to mate with the clutch disc.
Mounted the computer, cut wires for all the controls and sensors to the correct length and then taped them into neat bundles. Engine fired up first try, well first try "after" I discovered that I the main engine harness was not "plugged" into the chassis wiring. However we won't talk about how long it took to discover that.
Finally with everything working I added some engine flush to the oil, ran it for a while, tightened a clamp on the upper radiator hose that somehow failed to have gotten tighten, then drained the oil changed the filer and added fresh oil.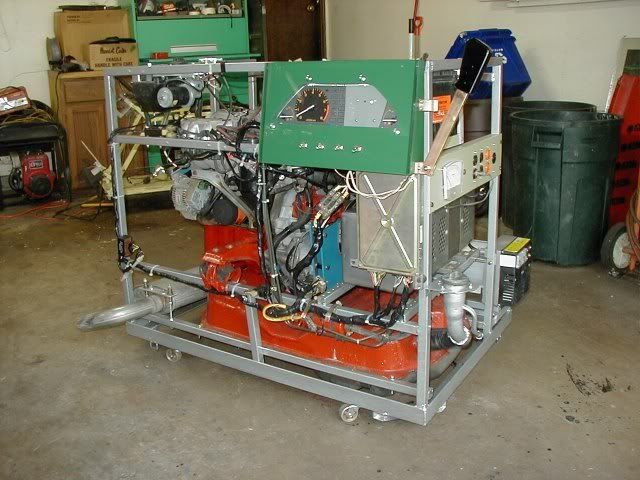 So I am now ready for the next power failure.

************************************************** ***************************
As it turned out the following week I was fortunate enough to have the opportunity to put it to work.
It was a Thursday and I had just brought the dogs in from what they consider to be their mandatory afternoon walk, it was overcast and just starting to rain. I sat down to rest for a bit and it was 5 maybe 10 minutes before I noticed "boy it's really dark outside" and sounds like it is raining pretty good too. I also noticed that we had lost power so I went into the garage to take a look at the storm. First thing I see is the ground is everywhere covered with small branches, twigs and leaves. Looking across the street the neighbor has three trees down! These were 10 to 14 inch diameter broken off at the base. The neighbor to the right of me also lost a couple trees. I lost one branch on one tree and I did not hear a thing!!!
Turns out we had numerous mini-tornadoes thought out the area taking down trees, power lines and flooding rivers. The power company was totally overwhelmed. It was Sunday morning before our power was back on.
see part 2